As a teenager, my parents encouraged me to play the guitar! I love the guitar. I love the sound it makes. I love listening to it , teaching it and playing it! I also play the ukulele! Most of the popular songs I play, are my own arrangements. I feel arranging music makes it more personal for you and I can offer a more variety of songs! Playing at weddings is such a blast. It is great to see families and friends enjoying each other!
Besides playing for beautiful weddings, I have performed at a variety of wonderful private and public events Private events include The Traverse City Public Library, Boones Restaurant, The Traverse City Opera House, Left Foot Charley, Harringtons By The Bay. Public events include The Traverse City Camera Club, Park Place Dome, Horizon Shine Cafe, Borders Books and Music, Chateau Chantal, Aurora Cellars, Crystal Mountain, Ciccone Vineyard, Glen Arbor Wines. I taught Classical Guitar and Beginning Guitar Classes for the Adult Extended Education and The College for Kids program at Northwestern Michigan College in Traverse City for seven years.
My husband, Traverse City wedding photographer, John Eschelweck https://eschelweckphotography.smugmug.com/
and I, have two children and a dog named Buster. All five of us live in northern lower Michigan.
Pictures within text by- John Eschelweck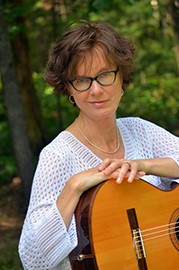 Testimonials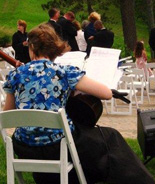 Hi Gael,
I just wanted to thank you for being so flexible and playing so beautifully at our wedding in Port Oneida. It really made the day so special and memorable. Your willingness to learn new songs and to haul stuff down to play on the beach was above and beyond what other musicians might do. I highly recommend you to anyone getting married in the area and I wish you well!
Lindsey
"Gael, Thank you so much for playing the guitar for our wedding! We genuinely appreciated your talent and loved hearing the selections both during that day and in our video! Also, thank you for learning 'Zelda's Lullaby' for us- we received many compliments for that song especially! Thank you so much you were wonderful! "Sincerely Jillian&Brian
"Thanks so very much for being there for our daughter's wedding reception
last Saturday. You were wonderful and helped to create a lovely, welcoming
environment when guests arrived. Two of my grown nephews, who know music,
commented on how good you are. The ukulele during the cake cutting was such
a nice touch!!"
Thanks again, Sally
"Review" From 'The Knot'
http://local.weddingchannel.com/wedding-vendors/Music-by-Gael-profile?ProfileId=582476&sid=NWww6wfNaGXKr5uoQlnV7g
"Hi Gael!
I wanted to check in with you after our wedding. I never got a chance to really talk to you at the wedding with everything going on. I wanted to let you know what a wonderful job you did and how much we loved everything! It was perfect and exactly what we wanted.
Thank you so much for being there for us! Enjoy the rest of your summer!"
Jenna & Jeff
"It was great! I loved the Segovia piece you played!"--Chris
"You were amazing and I am still hearing comments from the guests about your talent." -- Jelsma/Chenoweth Wedding
"The Traverse Area Camera Club so enjoyed having Gael play at our annual Photography Exhibit opening reception at the District Library that we have invited her back every year since. Her music is a pleasant backdrop as guests view our exhibit and chat with the photographers." -- Marilyn Hoogstraten, President, Traverse Area Camera Club
"Everyone loved the music! Thanks for the great day! Brandon and I are thrilled with the way everything turned out!" -- Melanie
"It was just as I imagined, we had so many compliments and really felt it was perfect for our wedding" -- Piggott/Potocki Wedding
"Gael is a very talented artist, sharing and professional. Here at the artcenterTRAVERSE CITY we have enjoyed her music many times. Her playing is so peaceful and soothing, she has always been a wonderful guest at our creative events, in our galleries and at the Holiday Show in the Park Place Hotel." -- Artfully yours, Patt Bennett, Office Manager, artcenterTRAVERSECITY
"The music made that beautiful setting even more perfect. Thanks again." -- John & Ellen
Gael
"You really made our day fantastic! Thank you so much for playing our special requests. Everything turned out perfectly and you were very much a part of making that happen. Let me know if you ever need a reference" -- Barbara
"Thank you so much for your participation in a day that was so special to us! Your music was a beautiful addition." -- Kara & Barry
Hi Gael,
"Just wanted to say a quick thank you for your wonderful performance on Saturday! You helped make the evening even more special for Pam and me. We will be sure to recommend you to future couples"
Thanks again,
Chris and Pam
"We had such a wonderful day! Thank you and we will be in touch for future events. You music was beautiful!!
As they say in France...bisous"
David & Shea